Case Study Videos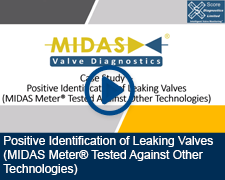 Case Study: Positive Identification of Leaking Valves (MIDAS Meter® Tested Against Other Technologies)
In this case study, we explain why Acoustic Emissions (AE) Sensor Technology should be your start point, when it comes to valve condition monitoring and through-seat leak detection. Quick, easy and conclusive valve condition monitoring results can really drive your condition (value) based maintenance programmes. Contact us now to set up a demonstration or for valve survey assistance.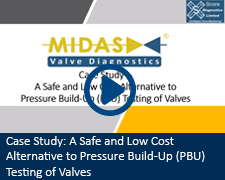 Case Study: A Safe and Low Cost Alternative to Pressure Build-Up (PBU) Testing of Valves)
This case study highlights how you too could save over $2Million every time you need to verify the performance of your critical isolation valves such as RESDVs (Riser Emergency Shutdown Valves). WARNING : The four and a half minutes it takes to watch this case study may change the way you test your critical valves in situ – forever! Click to watch it now… then start saving!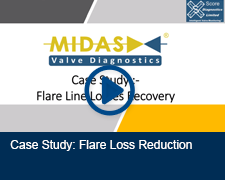 Case Study: Flare Loss Reduction
In this case study, we focus on how our customer was able to reduce flaring emissions, minimise maintenance spend (at no additional risk) and turn a relatively small investment back into significant recovered profits. Please take a look at the video now, to see just how easy that was for them - and you - to achieve.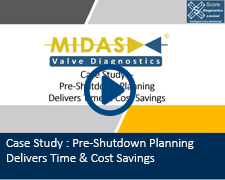 Case Study: Pre-Shutdown Planning
This case study describes how an Acoustic Emissions (AE) Survey with MIDAS Meter®, completed in advance of a planned shutdown, was able to reduce the turnaround scope, duration and costs associated with valve maintenance. You too can make these savings at your next turnaround. View the video now to see how.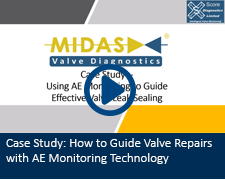 Case Study: How to Guide Valve Repairs with AE Monitoring Technology
In this case study, we highlight how an acoustic emissions (AE) survey was performed to guide our customer through a challenging through seat leak sealing procedure, on an 18" bore ball valve. Without the evidence generated by the MIDAS Meter®, the customer advised that they may not have proceeded with the work, as there was no guarantee that they would have been able to achieve a successful outcome.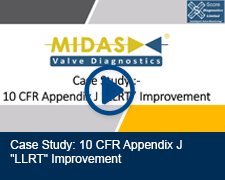 Case Study: 10 CFR Appendix J "LLRT" Improvement
This MIDAS Meter® case study will be of interest to you if you are working in a nuclear power production plant and carrying out Appendix J testing. View the video now to see how you can save downtime, reduce testing costs and simplify the testing programme...