Significant enhancements have been made to MIDAS Meter® Core and CommunicatorTM software, which require all existing customers to take action, to gain the full benefit of the very latest design features and functionality enhancements, moving forward.
Risk Based Inspection (RBI) Calculator
To directly answer customers' questions and concerns on "which of my valves should I monitor and when?" and to support the very latest developments and strategies in Asset Integrity Management (AIM) and specifically Reliability Centred Maintenance (RCM) planning and
implementation, Score Diagnostics Limited has enhanced the MIDAS Meter® Core and CommunicatorTM software.  The latest revision of the product and software now includes new functionality and clear guidance on RBI for valves.
Simple built-in variable and selectable parameters such as "Probability" and "Consequence" of failure now provide MIDAS Meter® users guidance on when each valve in their installed population should optimally be surveyed.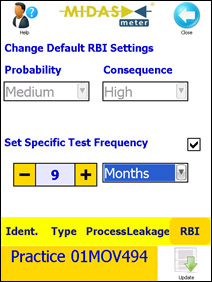 Users are also now able to produce standard "look ahead" and""overdue" reports, detailing which valves are becoming due to be tested as well as highlighting any that are already
overdue.
Please Note: All customers with MIDAS Meter® CommunicatorTM
New MIDAS Meter® CommunicatorTM® Operations and Maintenance Manual CD that is contained within your MIDAS Meter® kit, supplied at the time of Annual Maintenance completion.
Please refer to the MIDAS Meter® Communicator Installation guide (9103-26) for further details. If you have any queries please contact us on +44 (0)1779 485530.