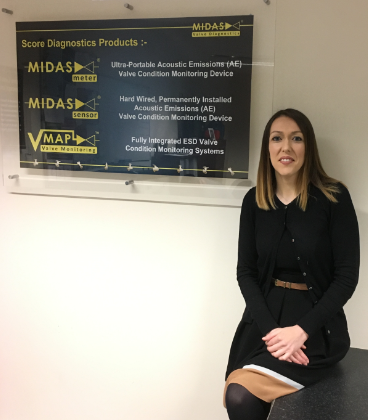 Score Diagnostics Limited are delighted to announce the appointment of our new Sales & Marketing Assistant, Kimberley Morrison. Sales and Marketing Director, Dave Anderson commented :-

"Kimberley has been working in various roles within the Score Group for 12 years and we are delighted to have secured her talent and rich experience for our team".
Kimberley's journey in Score Group plc began back in 2005 at the heart of the company in its headquarters; Score (Europe) Ltd in Peterhead. Her first roles were within the PSV Planning & Strategies Departments, where she gained a vast amount of knowledge and experience planning & preparing for PSV Shutdown Campaigns for various key clients / platforms within the North Sea sector. This role developed her experience in procuring materials necessary for replacement / repair / recertification work scopes, arranging mobilisation of workshop containers & technicians offshore, co-ordinating with clients prior, during & post shutdown period and updating & maintaining both Score & Client Databases.
After 6 years in this role Kimberley decided it was time for a new challenge and as it turned out, a new climate, when she was given the opportunity of a secondment to our Score Middle East office in Dubai. Over the following three year period, working in a smaller team and office environment she was able to develop a whole range of new skills, ranging from Administration & PA duties, Sales Co-ordination, Internal Auditing to PR & Marketing. It also provided her the opportunity to travel to many other countries within the Middle East region, meeting new clients and expanding her knowledge in this sector.
On her return to the UK, Kimberley took up a role within Score (Europe) Ltd as a Sales Co-ordinator within our Non Contract Sales Team, providing sales support to Group facilities in Great Yarmouth, Brighouse, Southampton and Ireland, assisting them remotely by providing valve & actuation sales quotations for customers within these regions and following each enquiry through to order and despatch stage.
On her appointment, Kimberley commented :-

"I am delighted to have been appointed to my new role in Score Diagnostic Limited. This is a very exciting opportunity and another highlight in my career with Score Group plc.

Score Diagnostics Limited is an area of the Score Group that is growing, due to the innovative products that they have developed. I can honestly say, I feel very privileged to be part of this team. This new role will bring with it some fresh challenges, which I believe are a necessity for personal growth and development, and will also allow me to bring on board my current knowledge and skillset which I have developed throughout my employment in the company. I am really looking forward to this new venture"