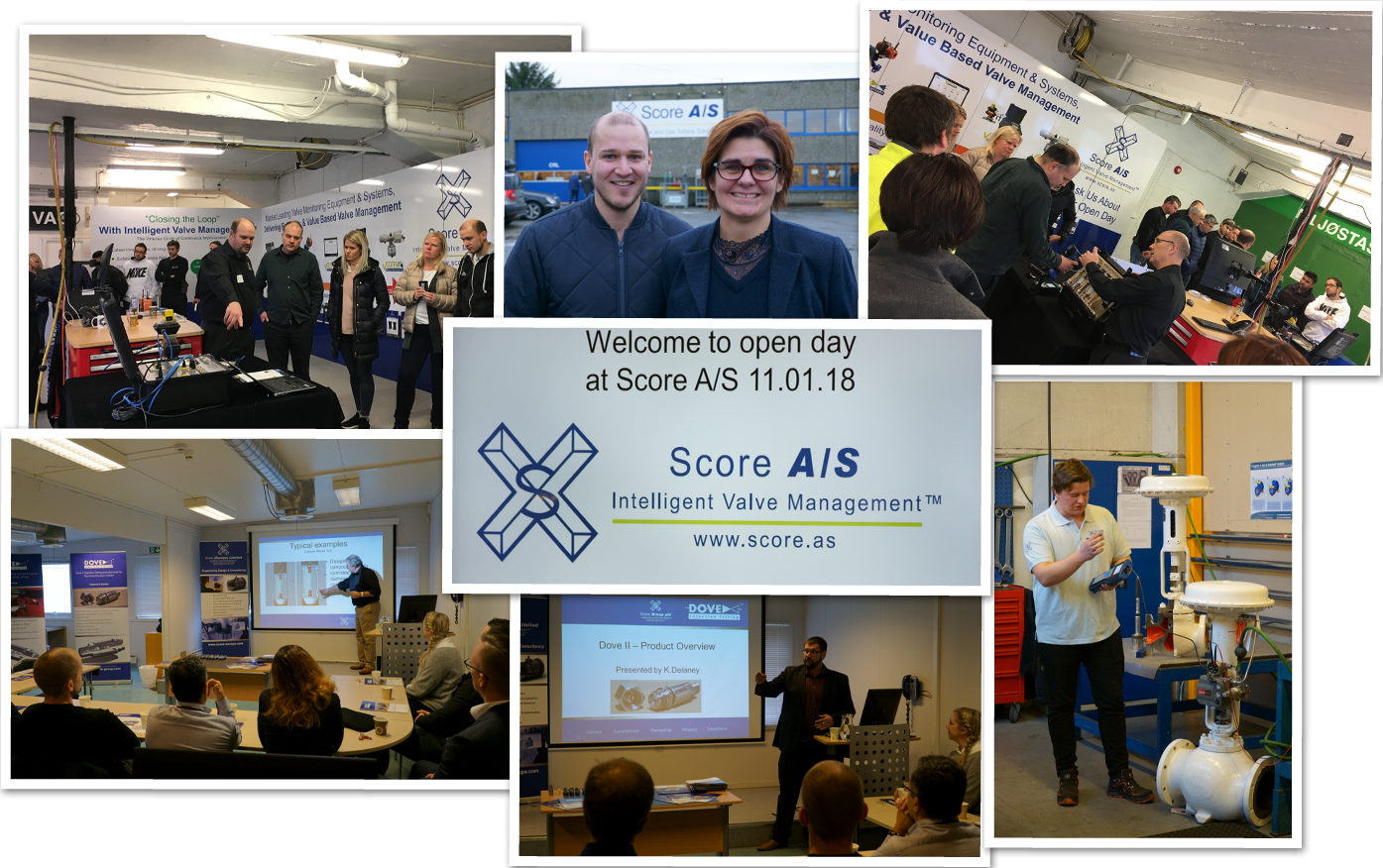 On Thursday 11th January 2018, Score Diagnostics Limited paired up with our sister company Score A/S in Stavanger, who opened their doors to showcase working demonstrations of all the latest innovative technologies, products and services from Score Group plc companies.
Visitors to the Score A/S facility were warmly welcomed and given a grand tour of the premises. Over the course of the day various presentations & live demonstrations were given, showing an insight to the range of innovative technologies, products and services offered by the Score Group. These included; MIDAS® range of valve diagnostic products and services, DOVE™ Sealant Injection Fitting, Valve Testing, Engineering, Strategies, Maintenance and Control Valve Diagnostics capabilities & services, along with an overview of Score's Supply Chain Management.
Score Diagnostics' presentations and demonstrations, which were focused on the MIDAS® range of valve diagnostic products and services, were very well received. Visitors showed a keen interest in how these valve condition and performance monitoring products – which play a key role in Score Group's Intelligent Valve Management™ Strategies – can reduce operators' exposure to risk and deliver maximised safety and operating efficiency on process plants.
The live product demonstrations of the Midas Meter®, Midas® Sensor and V-MAP® received great feedback from our visitors and gave them a chance to see the valve condition monitoring results and benefits for themselves.  Many visitors were also able to have a hands-on experience of the MIDAS Meter®, highlighting for them just how quick and easy it is to detect, quantify and trend a valve leak using this device.
Following on from the customers' open day, Score Diagnostics personnel also carried out an enhanced products and benefits familiarisation and training session with an assembled team of Score AS personnel. This session also received very positive feedback from those that attended.
Overall, our time in Norway was a very productive and positive experience and it was a pleasure to meet customers old and new alike. We would like to take this opportunity to thank everyone who attended our presentations and product demonstrations and for the hospitality and support extended to us by the Score A/S Team.
If you were unable to attend the Score A/S open day and would like further information on the MIDAS® range of valve condition and performance monitoring products, please contact us at Midas.Enquiries@Score-Group.com.